Voyage en Louisiane : A voir
Que voir, que faire dans le pays cajun du sud de la Louisiane ?
Voici un aperçu des visites recommandées et des ballades à faire.
La Nouvelle orléans : le quartier français, les abords du port sur le Mississipi.
Les petits villages du pays cajun : Bayou Goula

Les demeures "Ante Bellum" des plantations
ante-Bellum signifie avant la guerre de secession (de 1861 à 1865).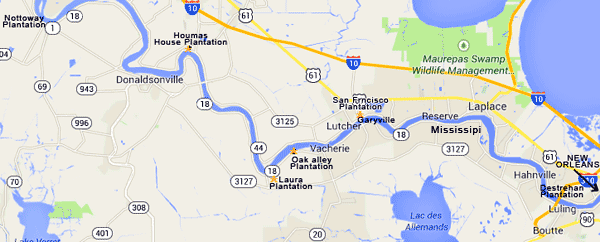 Les plantations facilement accessibles depuis New Orleans.
Destrehan Plantation
, à Destrehan, 10 km à l'ouest de New-Orleans



Oak Alley
Nottoway
San Francisco plantation
Laura Plantation
Houmas House Plantation
Les bayous
Bayou Tèche
-
Patterson
et la capitale de la french Louisiane :
St Martinville
les villes de la louisiane du sud

New ibéria


Morgan city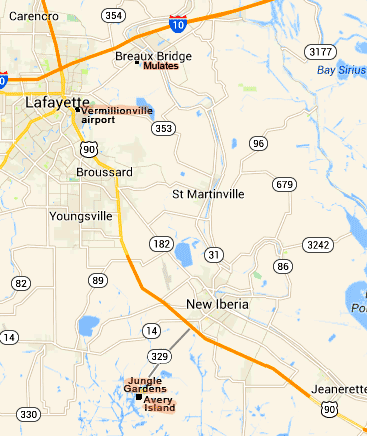 Avery Island
, son Sanctuaire aux Oiseaux et ses Jardins de la Jungle et une visite de la fabrique du Tabasco (achetez la bouteille verte, introuvable en France).
Et Lafayette sur le bayou Vermillon, et beaucoup d'autres endroits où je n'ai pas de photos et où je ne suis pas allé. et surtout :
laisse le bon temps rouler !
N'oubliez pas d'aller
faire un tour dans les bayous !
voici quelques infos sur le sujet : Cela s'appelle les "
Swamp Tours
" dans tout le bassin de Atchafalaya.
Il y en a des différents, soit sur un bateau à aube, donc sur les grands bayous sur des bateaux plus petits , bien souvent des Airboats (un gros ventilateur à l'arrière permet de se déplacer : cela fait un bruit d'enfer mais on vous fournit des casques). ou encore dans des barques nettement plus petites, mais là il faut trouver chez l'habitant..
Vous pouvez trouver cela à Lafayette, sur le bayou Vermillon, ou dans les environs sur le tèche.
Egalement à St MartinVille, au coeur du pays cajun, ou à Henderson, Patterson, New Ibéria ou encore à bien d'autres endroits.
Par contre les tours se terminent tous à 17 heures, voire 16 heures.
Prévoyez d'y être au bon moment.
Voici une liste avec les horaires et le type de tour proposé.
GIBSON
Atchafalaya Basin Backwater Adventure 3 hr. boat & walking tr. 15,000 yrs. of swamp history & ecology. $50/person. Pirogueing & camping (closed Dec 1-Feb 15 & Jun 1-Sept 1). Daily 10:30am, except Sun.
HENDERSON
Angelle's Whiskey River Landing & Swamp Tours Tour the swamplands of the Atchafalaya Basin in English & French. Experience a relaxing 1-1/2 hr tour! LIVE CAJUN MUSIC every Sun, 4-8pm. M-Sa 8am-5pm; S 8am-8pm.

HOUMA
A Cajun Man's Swamp Cruise "The Cajun Man," Ron Guidry, personally conducts each tour, stopping to show birds, animals & alligators. French-speaking, songs, Cajun accordion. Mon-Sat;hours vary. Annie Miller's Son's Swamp & Marsh Tours, Inc. 5 mi W of Houma on LA 182 at Bayou Delight Restaurant. Enjoy ride through Mandalay National Wildlife Refuge. Open all year. Hours vary by season. Bayou Black Airboat Swamp Tours Enter another world, as you venture into the interior of the swamps only accessible by airboat. See alligators, birds & other wildlife. 1-1/2 hr. tour daily. Cajun Tours & Cruises, Inc. Swamp boat & land tours. Netmaker, alligator hunter, seafood factories, plantations, Cajun & Indian fishing villages, birds & animals. Cajun food/music. Hammonds Cajun Seaplane Tours Most exciting tour in USA! We use swamps & bayous as runways! See swamp/marsh, deer, gators, birds, private cove, forts, oil rigs, etc. Daylight till dark.
KRAEMER
Torres Cajun Swamp Tours Hwy 307. 1-1/2 hr swamp boat tour on Bayou Boeuf, one of the most spectacular swamps in LA. See gators/turtles/snakes/herons & nutrias. French guides. Daily 9-5. Zam's Swamp Tours See live alligators! French guides, Cajun Restaurant & Gift Shop. Bayou & walking tours of Cajun Zoo. Group, senior & child rates. Great fun! 9:30am-4pm.
LAFAYETTE
Atchafalaya Experience, The Trips into the Atchafalaya swamp in small boats by educated & insured naturalists. A father & son team. Featured on many foreign & nat'l TV shows. Daily 9am-4pm. more>> de la Houssaye's: The Louisiana Experience Ecotours into La.'s largest nesting area of wading birds. Every tour is personally guided by Marcus de la Houssaye in an authentic Cajun fishing boat.
LOREAUVILLE
Airboat Tours, Inc. Airboating since 1987 in swamps, lakes & bayous. Native wildlife & vegetation. Marshfield Landing, off Hwy. 86. Call for reservations. Closed Nov-Jan.
MORGAN CITY
Swamp Gardens Heritage park offering a walking guided tour through 3.5 acres of natural swamp depicting life in the great Atchafalaya Swamp & native animals. Daily 10am-4pm.

NEW IBERIA
Action Airboat Adventures A safe exciting airboat adventure. Go places only airboats can. Photograph many types of wildlife. Private tours available.
PATTERSON
Cajun Jack's Swamp Tours Tour the Atchafalaya, the largest swamp in N. America. See first-hand how the Cajuns still live as their ancestors did hundreds of years ago. Daily 9:00am & 2:30pm.
SCHRIEVER
Munson's World Famous Swamp Tours Unique adventure by boat into prvt. pristine swamps off-limits to public. Very Primitive. Abundant wildlife. See large gators hand-fed, 2-hour tours daily.
La ville de Natchez
pour ses maisons et son quartier de style colonial. C'est au Mississipi.
l'office de tourisme de la Louisiane

tous droits réservés |
CONTACT
|
Partenaires
|
Notice légale
Ce site utilise des cookies. Pour en savoir plus cliquez ici. En poursuivant votre navigation sur ce site, vous acceptez l'utilisation des cookies.. OK